Could not write Counter fileCould not write to LOG fileCould not write to LOG fileCould not write to LOG fileCould not write to LOG fileCould not write to LOG file
Presentation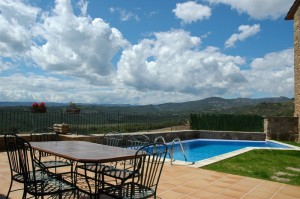 In the small and charming village of Vilaplana lies
Cal Miger
, real luxury in the natural, wide and unexplored geography of Baronía de Rialb. It is a typical country house distributed over three floors, with a stone façade and a poultry yard. It is fully renovated and has a garden with a barbecue and a swimming pool to enjoy the silence.

The owners are sons of Vilaplana, farmers and cattle-raisers. They live in another house in this village, 50 metres from Cal Miger. It is a perfect rural accommodation to visit with children and ride on bicycles in the surrounding areas. It has a maximum capacity of 14 people and it is well connected with the nearby towns such as Peramola, Oliana or Andorra.
Come to rest to Cal Miger, a rural house for families.
Cal Miger, rural house Miger, rural accommodation Miger, rooms in Miger, rural tourism in Cal Miger